Myofascial Release is one technique used by Remedial massage therapists. 
The technique is primarily a gentle stretch of the fascia, a thin layer of connective tissue, which covers and separates muscle groups and organs. This technique is popular among massage therapists, chiropractors and dentists, due to its gentle nature and can be effective with people who have severe pain. It is particularly effective with patients who suffer from TMJ (Tempromandibular Joint) disorder and cannot tolerate deep tissue techniques.
Massage therapists at Metro Health are trained in a variety of techniques. If you prefer a particular style of massage, light or deeper touch then let your practitioner know. Practitioners can work on a particular area, or areas like neck and shoulders, Arms, legs, lower back and neck or full body treatment. You just need to let the practitioner know what you want worked on, and they can discuss the treatment plan with you.
What else do Remedial Massage Therapists do?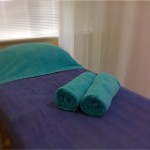 Andrey Mazaev and Anne Stewart remedial massage therapists working at Metro Health. Both Anne and Andrey commonly give patients home exercises to do, and if you want to be more involved in your treatment, just ask at your next appointment. We want our patients to be happy and healthy for the long term. Stretching, self massage and postural exercises are some of the things that can make a more long term difference in your overall treatment. When it's necessary or appropriate, massage therapists will refer you to another practitioner like physiotherapist, acupuncturist, chiropractor, osteopath, GP and others depending on what's wrong.