The Latest in Mens grooming…
Our New packaging for the Hard Core Man Lips(R) product is here! 
The point of sale carton fits 9 x each of our 3 flavours – ORIGINAL, WINTER and PEPPERMINT
Contact Marie at wholesale@metrohealth.com.au for prices and find out how you can start stocking this product in your store now.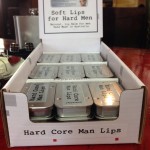 Hard Core Man Lips has four natural ingredients containing shea butter, cocoa butter, beeswax and vitamin E.
WINTER – has more vitamin E, helping to moisturise the lips. This is the best choice lips that are already dry, chapped, red.
ORIGINAL – our original recipies which is firm enough not to over-melt in your toolbox or car console, but smooth enough to apply easily.
PEPPERMINT – with added peppermint essential oil, Hard Core Man Lips Peppermint gives an added refreshment to your lips. Enhance mouth freshness with Peppermint Hard Core Man Lips.