Marie Hopkinson began studying Chinese herbal medicine & Acupuncture back in 1997. Over the years of study, and many trips to China Marie has developed a life long love of the wonders of Chinese medicine.
Marie has been teaching Chinese medicine for many years, including working in a clinical supervisor role, overseeing hundreds of treatments, and helping to train the next generation of Chinese medicine practitioners to learn and grow.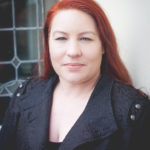 The past few years, Marie has been re-training in a more focused, classical style of herbal medicine which is primarily pulse-diagnosis based. Marie travels to Sydney three times a year for ongoing training in theory and clinical practice.
Marie is happy to see patients for acupuncture, however the focus of Marie's practice going forward is in herbal medicine. Most of Marie's patients are treated with Chinese herbal medicine, with acupuncture being complementary to this focused herbal medicine approach.
What this means is that generally, patients will be seen once a fortnight, and then after 2 or 3 consultations Marie may start to only need to see you monthly, and you can be given a month of herbs at a time.
The approach of Classical Chinese herbal medicine means that as your pulse changes, there are always sequential formulas that can be used to maintain and increase health.
At your initial consultation, Marie will give you a general indication as to expectation of treatment time according to your individual situation.