so yummy + so easy
2 main steps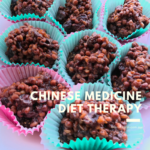 The topping – This is cooled Black Forrest Congee – it's two ingredients, made in a slow cooker overnight. Prep time 5 mintues – cook time 8hours /overnight.
Get that recipie here: http://www.metrohealth.com.au/30-days-winter-day-12-black-forrest-congee/
The base – Recipie below:
Mix 2/3 Walnuts with 1/3 of cranberries in a food processer. Add a teaspoon of coconut oil and a couple of teaspoons of honey.
press this mixture into the bottom of patty pans and bake in the oven on 160 deg C. for 15 minutes. remove and let cool.
Add the cooled congee mixture and refigerate until serving.
Enjoy.