Description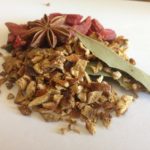 Make your own Mulled Wine with this easy to use kit, using the power of a tealight candle, it can brew up the wine in only 4 hours.
Comes with tempered glasswear – Burner base to hold the candle and heat the wine flask.
Made with High-quality herbs, organic or pesticide tested wherever possible.
each kit has 3 sashets of herbs, tealight candles and glasswear as pictured.
Ingredients of each sachet: Organic bay leaf, organic Go Ji berries, Organic nutmeg chips, organic clove buds, organic cinnamon chips, organic orange peel (Chen Pi), organic Star Anise.
Each Kit contains 3 x 15g (min) herbal packets.
Requires: 28g Sugar or substitue (such as a few spoons of honey) and 500ml Red wine.