Description
Bhutanese Incense Sticks
These handmade incense sticks have been delicately prepared using very aromatic medicinal herbs collected from the Himalayas. Some of the many ingredients included in this blend are: Juniper leaf, pangpai, gokul and cardamon. The natural ingredients combine to produce a traditional Himalayan remedy from a centuries old formula. This particular incense is beautifully presented in a silky green and blue cylindrical container.
Like Tibetan Incense, this Bhutanese blend of Himalayan incense is typically made from base-note scents which means the scents can only be truly experienced when burning.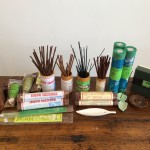 115g
21cm length
Bhutan is renound for bieng the founder country to record the GNH, or Gross National Happiness. 
FROM THE BOSS NOSE: "The cardamon notes give this one a distinct fragrance. I use it when i want to lift the mood, clear away negativity" Marie