Description
Longevity is a major part of Chinese medicine, which holds that humans should live for 100 healthy years. By living a healthy lifestyle, eating regular cooked foods, having a balance of rest and recreation, work and activity or exercise we can achieve optimum health.
This formula is founded on Energy and Blood tonic herbs. Go Qi Zi are treasured berries in Chinese Medicine, tonify Blood, help the liver's function of producing Blood and nourish the eyes. This hrebal wine uses two types of Ginseing – Ren Shen and Dang Shen. These are sweet Energy tonics which boost the production of Energy in the body.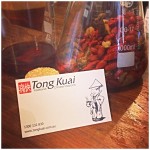 Why herbal wines? Alcohol is by nature warm, and can assist the movement of herbs to push to the channels and the exterior layers of the body. This is the main reason many injury treatment formulas used wine to wash the herbs down.
Just fill the container with 450mls of Vodka, covering the herbs, place cork to seal. Leave your newly made medicinal wine in a dark place for 60 days. After 60 days, decant to remove the herbal dregs and store for use. The bottle provided can be used for storage once the herbs have been removed.
NOTE: Does not include alcohol, only the container and the herbs.
Alcohol should only be consumed in moderation. Use your common sense.
Ingredients:
Go Qi Zi (Fructus Lychii)
Ren Shen (Amercian Ginseing)
Dang Shen (Codonopsis)
ABOUT THE CREATOR: 
Marie Hopkinson is the owner and creator of Metro Health and Medicine. Starting out a a Chinese Medicine Practitioner in 2001, Marie grew the business, operating in Morley, Maylands to it's current location in North Perth WA. Marie started making products in 2006, beginning with making dermatological products for patients on an individual basis, it grew from there. Marie's first products to bring to market was Hard Core Man Lips®. Now with over 50 different products made right in our Perth-based "factory", the range of Chinese Medicine and Natural health innovations extends over many health and beauty products.
Marie also practices Chinese Medicine and can be consulted for appointments, while in-person is preferred, Email /phone consultations can be arranged. Marie has been practicing since 2000, completing initial 3-year course in Chinese Medicine at the Perth Academy of Natural Therapies in WA. Marie has been to China for additional training in the Hangzhou Traditional Chinese Medicine Hospital (Hangzhou Shi Zhong Yi Yuan) twice as well as completing a Master of International Health at Curtin University in 2006. Marie is passionate about the effective practice and understanding of Chinese Medicine and enjoys the opportunity to educate patients about the benefits of self-help aspects such as diet therapy, as well as teaching Chinese Medicine at the Endeavour College of Natural Health.
For more info about booking an appointment with Marie CLICK HERE.
For more info about conditions treated with Acupuncture, and Chinese Herbal Medicine CLICK HERE.